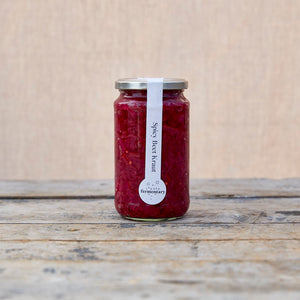 We are very excited to be sharing a small selection of products from one of our very favourite fermented product manufacturers. 
London Fermentary is a fermentation specialist focusing on raw, live, delicious products, all thoughtfully selected to support your body when it needs it most. Each jar and bottle comes packed with gut-friendly bacteria, exciting flavours and character to transform every meal. They have a range of lacto-fermented vegetables, sauces and Water Kefirs, for an unexpected take on this ten-thousand year old tradition.  


Ingredients: Cabbage, beetroot, red chilli peppers, salt.
It's deep earthy flavour mixed with the spice lends itself nicely to sweet fatty foods, stone fruits and nuts. Add to a salad of radicchio, crumbly goats cheese, blood oranges and toasted walnuts. Include in a chocolate and beetroot brownie recipe for an extra punch of flavour. It goes fantastically with simple roast pork belly and apple. Or try including it in Indian thoran made with cabbage, coconut and spices; either cooking with it or stirring it through just before serving alongside cashews and fresh coriander.
Nutritional info Per 100g:
Energy (KJ) 121
Energy (Kcal) 29
Fat (g) 0.1
of which saturates (g)0
Carbohydrates (g) 4.6
of which sugars (g) 4.5
Fibre (g) 2.6
Protein (g) 1.1
Salt (g) 1.94
https://www.londonfermentary.com/