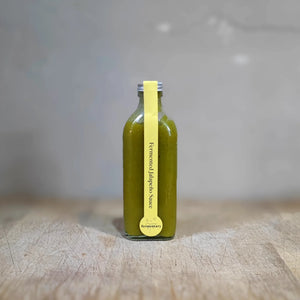 Ingredients: Jalapeno Chilli, Garlic, onions, olive oil, salt.
A more earthy spice, this is clean and savoury and compliments fatty, citrus flavours. Much like the smokey red chilli sauce, use this liberally in other sauces!
Run it through some fresh tomato salsa. Drizzle it over avocado on toast with fresh lime and coriander. Mix it into baked black beans and serve with fried eggs and cornbread. Or drizzle on pulled pork tacos, with sour cream, avocado and pickled onions.