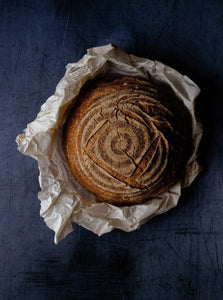 We are delighted to offer a gluten free option from award winning Knife and fork bakery
This loaf has a tangy sour taste, a substantial & chewy crust with a dense crumb & makes the best toast or toasted sandwich.
Our sourdough is made from just flour, salt, water and seeds.  Wild yeasts and a long fermentation does the hard work instead of bakers yeast and it's this long ferment that also gives the bread is unique texture & incredible taste.
We have our very own unique gluten free sourdough starter and flour blend that creates our Knife & Fork gluten free sourdough loaves.
This is our original sourdough loaf in its traditional free form shape.  Each loaf is the same size but there are never two the same. 
We recommend that this is best eaten toasted.
INGREDIENTS
 sorghum flour, buckwheat flour, millet flour, maize flour, potato flour, teff flour, rice flour, psyllium husk, flaxseed, salt.
Suitable for vegans